What's popular Lace front wigs Styles
Introduction
Lace front wigs have revolutionized the world of hairstyling, allowing individuals to achieve stunning looks with ease. These wigs boast a seamless hairline, natural appearance, and a myriad of styling options. In this article, we will delve into the captivating world of lace front wig styles. Whether you're aiming for a sleek bob, luscious curls, or a trendy updo, lace front wigs offer endless possibilities to express your unique personality and enhance your overall look.

The Magic of Lace Front Wigs
Lace front wigs are designed with a sheer lace material at the front that blends flawlessly with your scalp, creating an illusion of natural hair growth. This construction allows for versatile styling, as the hair can be parted and styled in multiple directions. The realistic hairline, combined with high-quality synthetic or human hair, makes lace front wigs a top choice for those seeking a glamorous and undetectable transformation.

Chic and Sleek Bob Styles
The classic bob hairstyle is timeless, exuding elegance and sophistication. With lace front wigs, you can effortlessly achieve a flawless bob that perfectly frames your face. Opt for a straight and sleek bob for a polished look, or experiment with a slightly angled bob for a modern twist. Lace front wigs provide the opportunity to switch up your hairstyle without committing to a permanent cut, making them an excellent choice for individuals who love versatility.

Enchanting Curls and Waves
Lace front wigs are a game-changer when it comes to achieving voluminous curls or luscious waves. Whether you desire cascading curls, romantic waves, or playful ringlets, lace front wigs offer endless possibilities. Simply use heat styling tools or flexi rods to create your desired curl pattern. The lace front construction ensures a natural-looking hairline, making your curls appear as if they're growing from your scalp. Embrace your inner diva and unleash your curling creativity with lace front wigs.

Trendy Updos and Creative Styling
Lace front wigs provide a versatile canvas for crafting unique updo hairstyles. From elegant chignons to braided updos, these wigs allow you to explore a plethora of trendy styles. Experiment with intricate braids, twisted buns, or high ponytails to elevate your overall look for special occasions or everyday glamour. The lace front design ensures a seamless blend between your natural hairline and the wig, giving the illusion of a perfectly styled updo.

Conclusion
Lace front wigs have emerged as a game-changer in the world of hairstyling, offering unlimited possibilities for self-expression and hair transformation. Whether you're craving a chic bob, captivating curls, or trendy updos, lace front wigs provide a realistic and versatile solution. With their seamless hairline and exceptional styling options, these wigs enable you to embrace different looks and confidently showcase your personal style. Unlock the power of lace front wig styles and embark on a journey of endless hair adventures.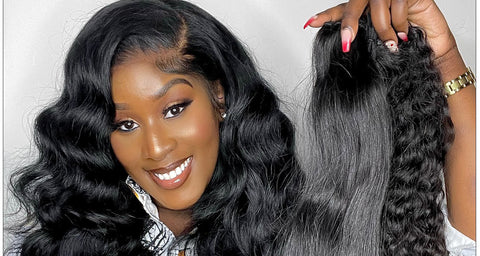 Leave a comment